Networking Event: BALSF & BAUFEC – Sudden Oak Death Expanded Training – Elkus Ranch, Half Moon Bay
November 7, 2019 @ 8:00 am

-

3:00 pm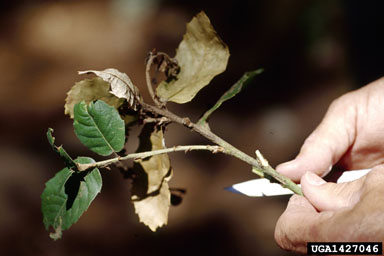 Hello BALSF and BAUFEC members, and future members!
For November, we have a special, half-day workshop/training on Sudden Oak Death for Arborists: detection, diagnosis, prevention, and management.  Details are below
Our presenters will be Drs. Matteo Garbelotto and Doug Schmidt, of UC Cooperative Extension and UC Berkeley.
Date: THURSDAY November, 7 10 AM – 3 PM.
Topic: "Sudden Oak Death (SOD) for Arborists: detection, diagnosis, prevention, and management"
Drs. Garbelotto and Schmidt of UC Cooperative Extension / UC Berkeley will provide a five-part training/update on Sudden Oak Death (SOD), specifically tailored for arborists and urban forest managers.
Please note that there is a new testing method for oaks, and it requires a bit of training – so please, attend to learn about this and the other new developments.  Our presenters will also cover the basics of SOD, so folks new to the industry should also be encouraged to attend.
The five parts:
Part 1 – Introduction, history of SOD, pathogen populations in air/water/soil, spread of SOD, unexpected effects of SOD, disease tolerance
Part 2 – SOD regulations (don't fear, this is the shortest part!)
Part 3 – Diagnosis, new strains of Phytophthora, new sampling protocols (NEW! OakSTeP sampling protocol for sampling cankers!)
Part 4 – Disease management: prevention (bay laurels!), timing, sanitation, cleanup, canker scribing
Part 5 – practical aspects: spraying, injections, disinfection, soil management
Location: UC Cooperative Extension San Mateo County – Elkus Ranch, Half Moon Bay. 1500 Purissima Creek Road, Half Moon Bay 94019
Directions to the Ranch: http://elkusranch.ucanr.edu/About_Us/map_and_directions_/
(coming up Purissima Creek Road, you will want to pass the driveway with the bright white fence; Elkus is accessed via the next driveway, labeled with a sign).  Please, drive slowly once you turn off of Purissima Creek road; the access road is curvy and only a single-lane, with children/animals frequent!  Once you enter the Ranch, just follow the sign for the Conference Center.
THERE IS NO CELL PHONE RECEPTION AT THE RANCH.
Please note that you probably will lose cell service once you turn off of Hwy 1.  BTW, if you are coming from the north (so, from Half Moon Bay), the turnoff from Hwy 1 to Verde/Purissima Creek Road is labeled but is fairly sharp and partially hidden in a grove of Eucalyptus (but there is a left-turn lane, so no need to rush)
Parking: in front of the building, in the dirt parking lot.
Lunch: Bring your own lunch with you There is no lunch available at the Ranch, and the lunch break (30 minutes) will not be long enough to drive out to town and buy lunch.  SO: please, bring a bag lunch. One option would be to pick up a sandwich lunch at the Safeway or New Leaf Market in Half Moon Bay.
Webcast:  for this meeting we have not yet decided on the webcast. Ultimately, whether to do this will be up to the presenters, but if you absolutely cannot attend in person, please email me ASAP so I can see what the presenters think about the webcast.
RSVP:  Please send a note to [email protected] to reserve a spot.  We expect to reach capacity for this meeting, so please DO send an email to reserve your spot!
CEUs: We will apply for 4 hours of ISA CEUs