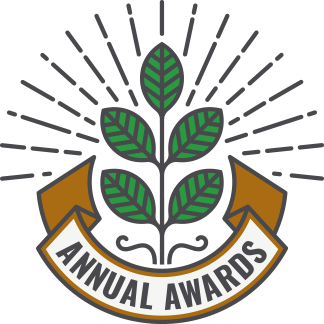 Celebrate excellence in urban forestry
2022 Annual Urban Forestry Awards
The California Urban Forests Council is eager to accept your nominations for the 2022 California Urban Forestry Awards. These awards celebrate excellence in California Urban Forestry. Work performed in both 2021 can be nominated for the awards.
Entries close on August 31, 2022, with judging taking place in early September. Winners will be announced at our conference in Rancho Mirage on September 30, this year.
How to nominate candidates for the awards (self-nominations are accepted):
1. Review the awards criteria below
2. Complete the online nomination form (one form for each nomination)
3. Upload supporting documents and photos directly through the nomination form. *Be sure to name your files so that they are easy for us to find. For example, if nominating Jane Doe for the Everyday Hero Award, the file name could be "EHA_Jane_Doe_1".
Presentation of awards:
Awards will be presented at the California Urban Forests Conference on Friday, September 30, 2022.
Everyday Hero Award
Awarded to an individual with outstanding community service who has demonstrated leadership in a project or organization and has shown exceptional dedication to improving California's urban forests.
Excellence in Education Award
Awarded to an individual, organization, or agency that has done the most in the past year to advance Urban Forestry Education in California.
Recipient must have shown innovation and leadership in creating or improving educational opportunities for either individuals or organizations. This should be demonstrated through educational materials, workshops, programs, videos, public awareness programs, etc.
S.O.S. – Save Our Shade!
(Climate Change Solutions)
Awarded to an organization or community that demonstrates creative solutions utilizing or addressing such urban forestry issues and threats or new opportunities associated with climate change, drought, pests and diseases, urban heat, and resiliency – preserving or enhancing the many benefits & services delivered by the community's trees.
Best Program
Awarded to the municipality, community, or business that has shown the most improvement in the past year or has demonstrated over a period of several years' exceptional leadership, innovation, growth, and, community involvement in creating a consistent and well-managed urban forest.
Best Project
Awarded to an organization, company, or community which completed an urban forestry project that:
• Addressed two or more environmental or public safety issues
• Involved the community and/or other organizations or agencies
• Significantly enhanced the urban forest and livability of the community
Community Building with Trees Award
Awarded to a corporation, agency or elected official whose mission is not urban forestry related but has demonstrated a significant and noteworthy level of contribution to a community, region, or the State of California utilizing urban forestry or green infrastructure programs to contribute to and enhance quality of life.