Last month we held tree planting events in Buena Park, Covina, Cudahy and Glendale as part of the CIRCLE3.0 project. On March 9 some of those working on the High-Speed Rail Program volunteered to help plant trees in Glendale.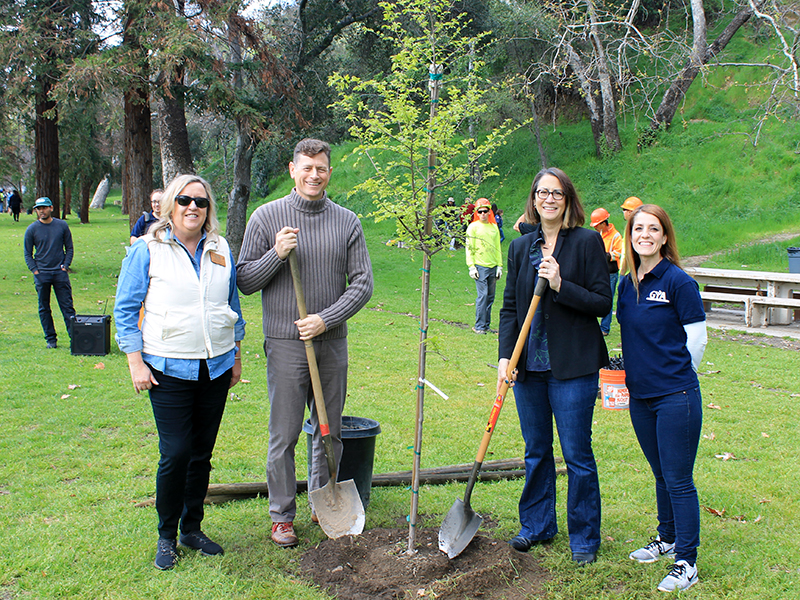 "One of the nice things about working on the High-Speed Rail Program is that it supports efforts to improve the state's overall environmental outlook, including the Verdugo Park tree planting event. It's an easy metaphor for High-Speed Rail itself; these big infrastructure programs are long-view investments in the future. We have to plant it now so we can enjoy it later."
Cullen Davis, Graphic Designer for the California High-Speed Rail Program
Read more about the Glendale tree planting event here.
April is one of the busiest months of the spring planting season. Our CIRCLE3.0 project will be planting trees in both Northern and Southern California. Click on the locations below for more information and to register as a volunteer.
April 13 
9 am – 12 noon
Magic Johnson Park in Los Angeles
April 20
9 am – 12 noon
Paradise Valley Pocket Park, South San Francisco
April 27
9 am – 12 noon
Gellert Park, Daly City
April 27
9 am – 12 noon
Holifield Park, Norwalk
April 27
9 am – 12 noon
Lake Center Athletic Park
Thanks to CAL FIRE and the California High-Speed Rail Authority (HSR) for funding the California Initiative to Reduce Carbon and Limit Emissions (CIRCLE). CIRCLE, now in its third year, has been working along the HSR corridor with partner cities and non-profits to engage residents in disadvantaged communities, train a CA Tree Team, and plant trees. Find out more about the project here.

Community Canopy Residential Tree Planting
By planting trees, you can save up to 20% on your summer energy bills and clean the air & water in your community.
Community Canopy helps homeowners and communities save energy and money by strategically planting trees to maximize their environmental benefits. In Glendale 127 trees sized between one and three gallons have already been planted at residents homes. Trees were also planted in Covina, with future plantings planned in Buena Park, Cudahy, Bell, South San Francisco, Santa Fe Springs, and Daly City.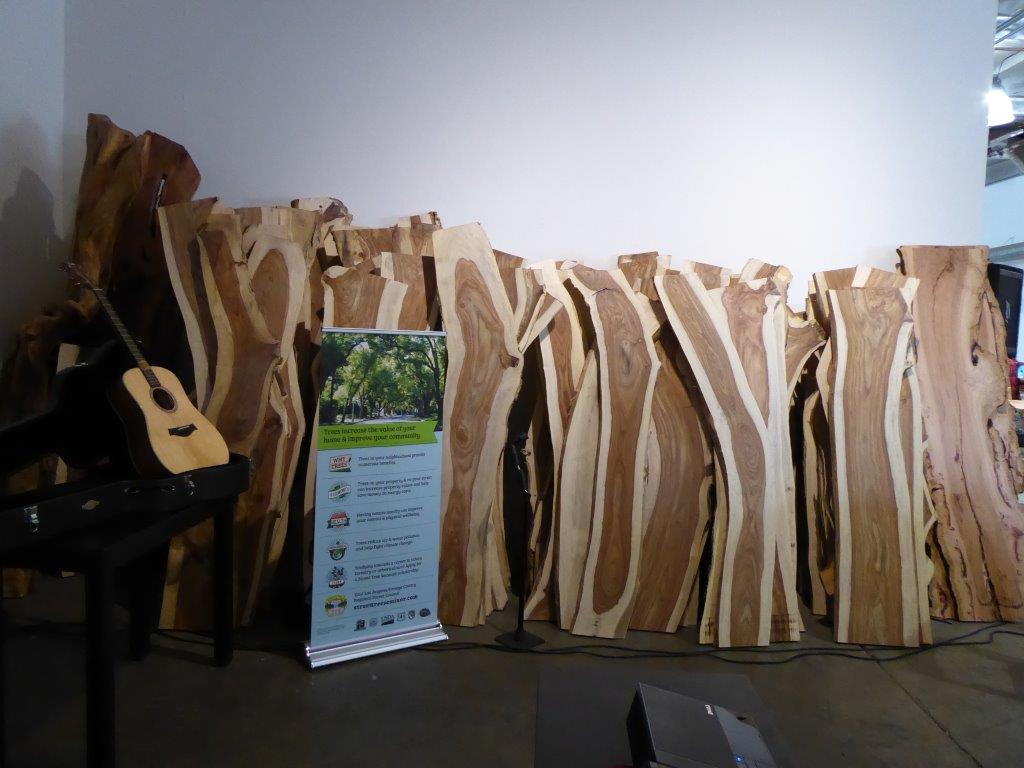 REGIONAL COUNCIL NEWS
Our regional councils host many workshops and events.
STREET TREE SEMINAR – LA / ORANGE COUNTY & STREET TREE REVIVAL
Street Tree Seminar held their March meeting we had at West Coast Arborists (WCA) in Anaheim on March 20th. Attendees heard about the Urban Wood recycling program that WCA is doing to save trees at the end of their life from ending up in a landfill. A fascinating presentation by John and Danny Mahoney covered the entire process from when the trees are cut down through to the end product;  beautiful slabs and planks of wood ready to be used to make cabinets, furniture and all sorts of pieces of art. Those present were also able to tour of the Street Tree Revival facility.
Urban wood fans, mark your calendars and save-the-date; September 26 to 28. The California Urban Forests Conference has an entire day focusing on the growth of this new industry. See more below.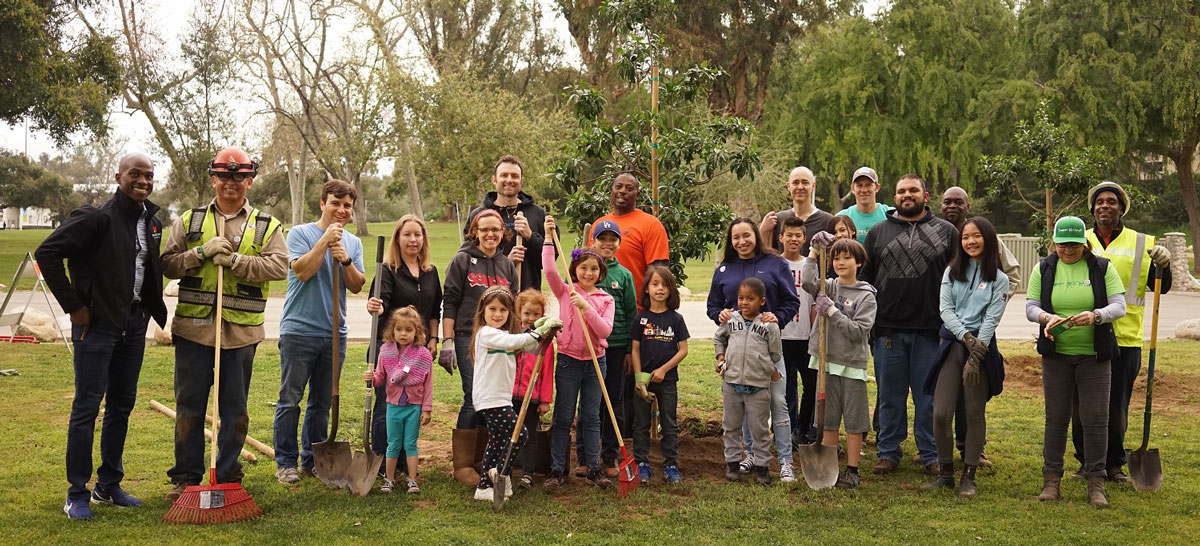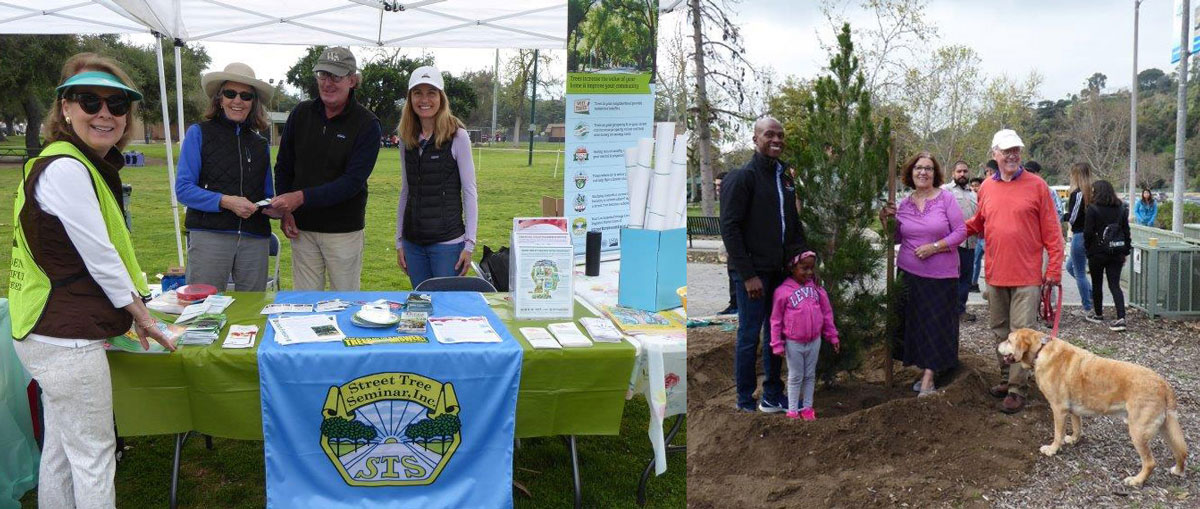 STREET TREE SEMINAR – LA / ORANGE COUNTY ARBOR DAY CELEBRATION
Street Tree Seminar celebrated Arbor Day on March 23 in partnership with the city of Pasadena and the Pasadena Beautiful Foundation. Thirty trees were planted by volunteers at Brookside Park in the Arroyo Seco.
The event was very well attended and included a barbecue lunch provided by the local fire station. Street Tree Seminar operated a booth with information about urban forestry and handouts on tree care and items for young children to enjoy.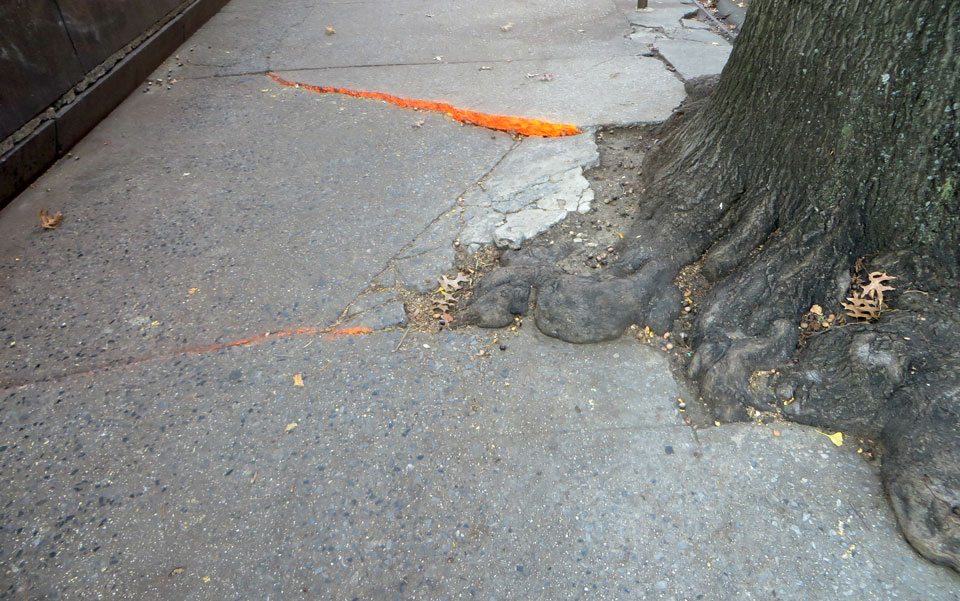 Sidewalk vs Trees who wins?
April 11 @ 11:30 am – 1:00 pm           
Sacramento Tree Foundation
191 Lathrop Way, Suite F
Sacramento, CA 95815 United States
Presenter: Scott Altenhoff, City of Eugene Urban Forester
The Sacramento Regional Chapter present a "Learn at Lunch" event every two months. The educational presentations address topics range from tree care to planning and understanding the management of the regional urban forest. Sessions are free. Lunch is not provided. Please bring your own.
RSVP: [email protected]

Invasive Shot Hole Borer (ISHB) & Goldspotted Oak Borer (GSOB) Workshop
May 9 @ 9:30 am – 2:300 pm           
CalFIRE is hosting an invasive shot hole borer (ISHB) and goldspotted oak borer (GSOB) workshop in San Luis Obispo on May 9th from 9:30 am – 2:30 pm. For more information on the training and to register, please click on www.pshb.org.
These insects have not been found yet in our County but they are very close, and we are especially concerned about the ISHB which can attack over 110 tree species. Many of these are native riparian species such as Sycamore, Cottonwood, Alder, Willows, Box Elders and this insect also attacks coast live oak and valley oaks.
Please come and attend this local workshop so you can learn how to identify these invasive insects and report them if you see them in our county. We'll cover these topics in the classroom, then have a hands-on lab to learn how to identify signs of shot hole borer damage, set up a monitoring program, and sample trees.
$30.00 Registration fee includes lunch, an ISHB Field Guide, and ISHB Demonstration Kit. Pre-registration is required. Click here to register.
CalFIRE has applied for CEU's from the Department of Pesticide Regulation and the International Society for Arboriculture.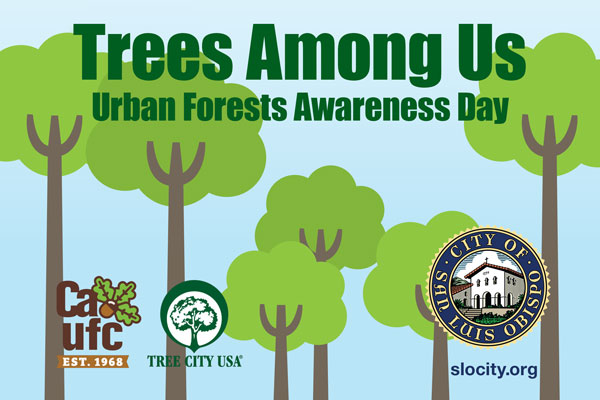 CENTRAL COAST REGIONAL URBAN FORESTS COUNCIL
Trees Among Us
URBAN FOREST AWARENESS DAY
Saturday, May 25 | 9 to 11 a.m.
Mission Plaza in Downtown San Luis Obispo
slocity.org
Learn about the benefits that trees provide!
Hosted by City Arborist Ron Combs
Join Cal Poly's Dr. Matt Ritter for a tree walk and discussion throughout Mission Plaza.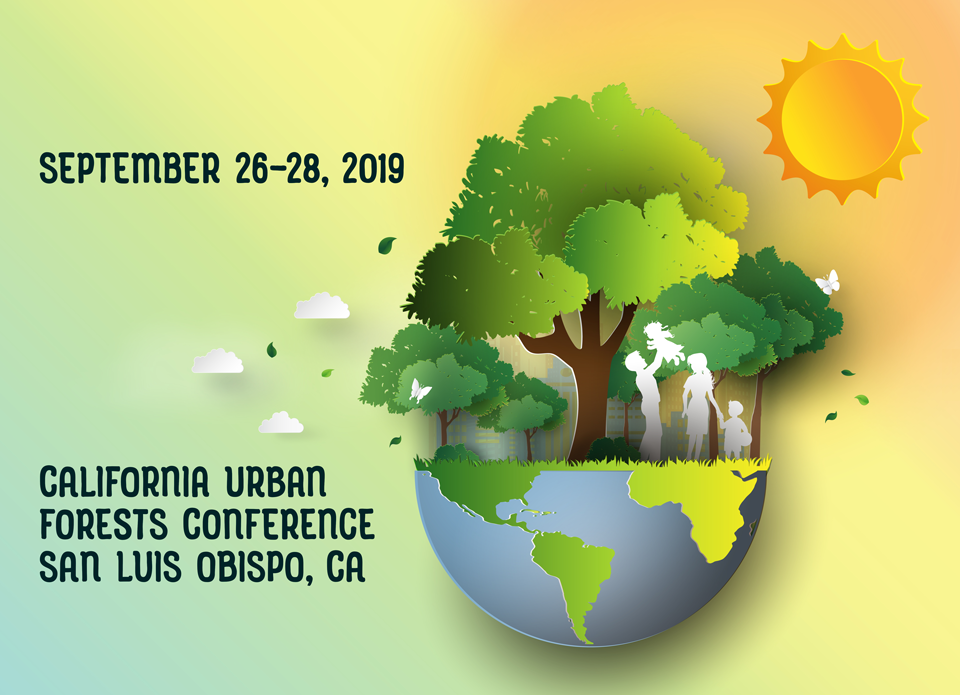 2019 California Urban Forests Conference
Join us in sunny San Luis Obispo at the end of September for the California Urban Forests Conference.
Connect with municipal arborists, urban forest managers, landscape design professionals, planners, urban wood enthusiasts, and non-profits from across California for this unique educational and networking experience. Held over two days, September 26 to 28, each full day has a distinct theme that examines current issues related to urban forestry.
Thursday, Sept 26: Kick Off Tour
Tour the Cal Poly San Luis Obispo Campus Urban Tree Canopy with the legendary Dr. Matt Ritter.
Late afternoon (TBC)
Friday, Sept 27: Day One
"The Time is Now – Urban Forestry & Climate Change"
8:00 am – 4:30 pm
Friday, Sept 27: Awards and Soiree
Tree-Huggers Soiree & Annual Urban Forestry Awards 
6:00 pm – 9:00 pm
Saturday, Sept 28: Day Two
"Urban Wood – Growth of an Industry" 
8:00 am – 4:00 pm
Saturday, Sept 28: Finale Tour
Grand Finale Tour – Pacific Coast Lumber Sawmill
4:30 pm – 6:30 pm
Full schedule and speakers coming soon.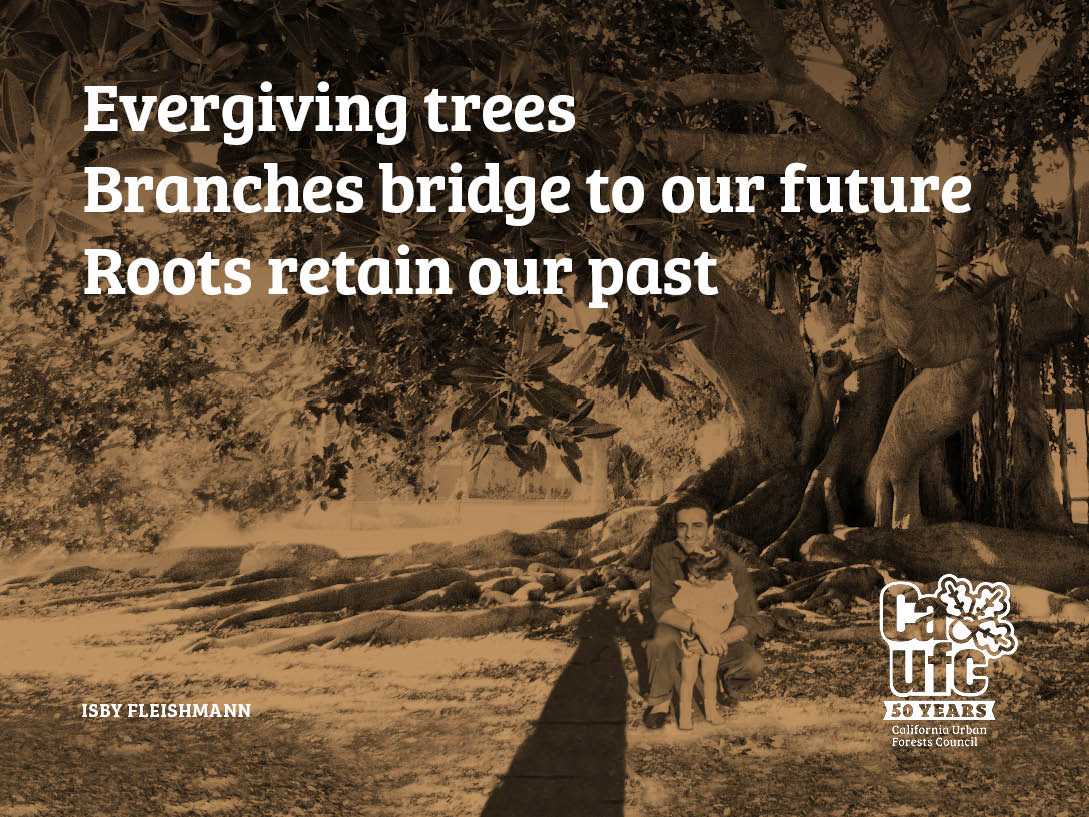 Celebrate National Arbor Day & Earth Day by entering our Haiku contest!
A haiku is a short three-line poem that uses sensory language to capture a feeling or image. Developed by Japanese poets, haiku are often inspired by nature, a moment of beauty, or poignant experience.
Haikus follow a strict form: three lines, with a 5-7-5 syllable structure. That means the first line will have five syllables, the second line will have seven syllables, and the last line will have five syllables. A haiku does not have to rhyme or follow a certain rhythm as long as it adheres to the syllable count.
2nd ANNUAL CALIFORNIA URBAN FORESTS COUNCIL HAIKU CONTEST
Theme: Trees Save the World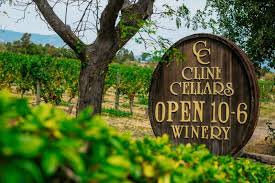 FIRST PRIZE:
A half case (6 bottles), selection of red and white Cline Cellars wines (Valued up to $150*) plus a copy of the book PINE, and a limited edition print.
Includes shipping within the US. Please note wine cannot be shipped to the following states: AL, AK, AR, DE, HI, IN, KY, MS, OK, RI, UT, WV. *Value depends on wines available at the time.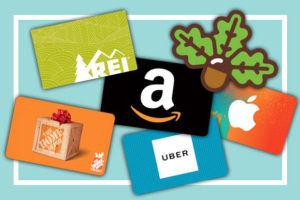 SECOND PRIZE:
A prize pack including a copy of the book PINE, a limited edition print and $100 gift card from your choice of:
Home Depot
Apple
Amazon
Uber
REI
THIRD PRIZE:
A prize pack including a copy of the book PINE, a limited edition print and $50 gift card from your choice of:
Home Depot
Apple
Amazon
Uber
REI
RULES:
Limit of 3 entries per person
Please "keep it clean."
Deadline April 26th, National Arbor Day
Winners announced in May.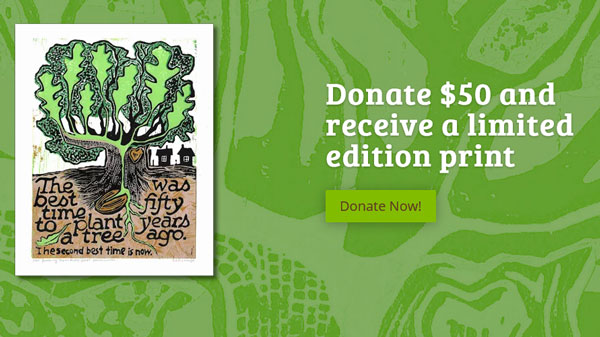 Donate $50 and receive this great limited edition print!
Why donate?
Your support is a smart investment in your community. With uncertainty regarding funding sources, we must increase our revenue through our support base and people like you to pay for the many programs and services we provide in California. Every dollar donated to the California Urban Forests Council helps us to continue our important efforts statewide.
Our gift to you.
If you give $50 or more you get this fabulous original limited edition, block print entitled "Growing Trees Make Great Communities" by graphic designer and artist, Deb Etheredge! Measuring 11 x 14 inches, each print is individually numbered and signed. Each print consists of five different colored blocks, carefully hand printed to create the final image. A full edition of 50 prints have been donated by the artist, so donate now and get yours today.
Career Opportunities
The U.S. Forest Service Eastern Region, State & Private Forestry will soon be advertising for a full time permanent Urban and Community Forestry Program Manager located in the Eastern Region's headquarters office in Milwaukee, Wisconsin. Click here to find out more.