We are starting to see the signs of spring across the state, with some of our street and urban trees coming into flower and the buds of new growth appearing.
This month, we will be helping to provide new growth in several urban forests across the state, by planting trees in celebration of Arbor Day.
Cudahy – 9:00 am, March 2nd, 2019
Buena Park – 9:00 am, March 9th, 2019
Covina – 9:00 am, March 9th, 2019
Glendale – 9:00 am, March 9th, 2019
There are many opportunities to join us at a tree planting event. You may even wish to become a member of our CA Tree Team. You can become part of the CA Tree Team by attending a workshop where you will get an idea of what an arborist does. Our upcoming workshops consist of a presentation on trees, tree benefits, urban forestry, our CIRCLE3.0 planting project and opportunities for free trees. This presentation will be followed by a walk around outside with a certified Arborist. If you're interested in attending a workshop please click on the link for the cities below for more information and to register.
Buena Park –9:00 am, March 2nd, 2019
Daly City – 9:00 am, March 9th, 2019
Norwalk – 9:00 am, March 23rd, 2019
Our regional councils are hosting a number of workshops and events. For more details see below.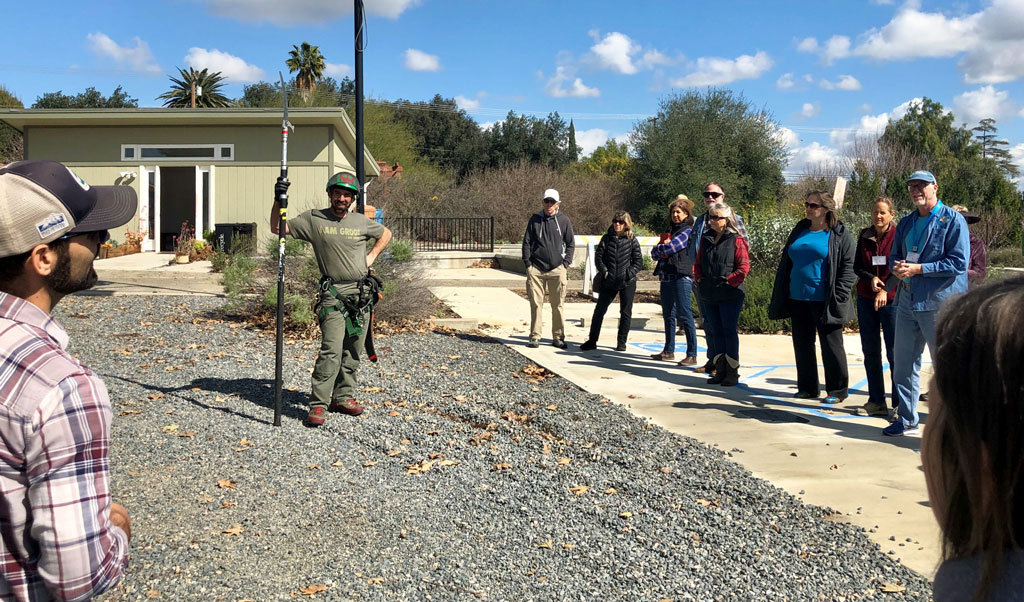 Our Inland Regional Urban Forest Council hosted two workshops last month that were both well attended. Participants learned how to select the right tree in the right place for the right reason as well as basic tree care with Cris Falco from West Coast Arborists, shown above answering questions.
In the Pruning for Tree Health workshop participants learned about when and how to prune an urban shade tree. Both young trees and mature trees were discussed. For young trees, the workshop covered structural pruning, looking at how to reduce future hazards so the young tree grows to provide shade.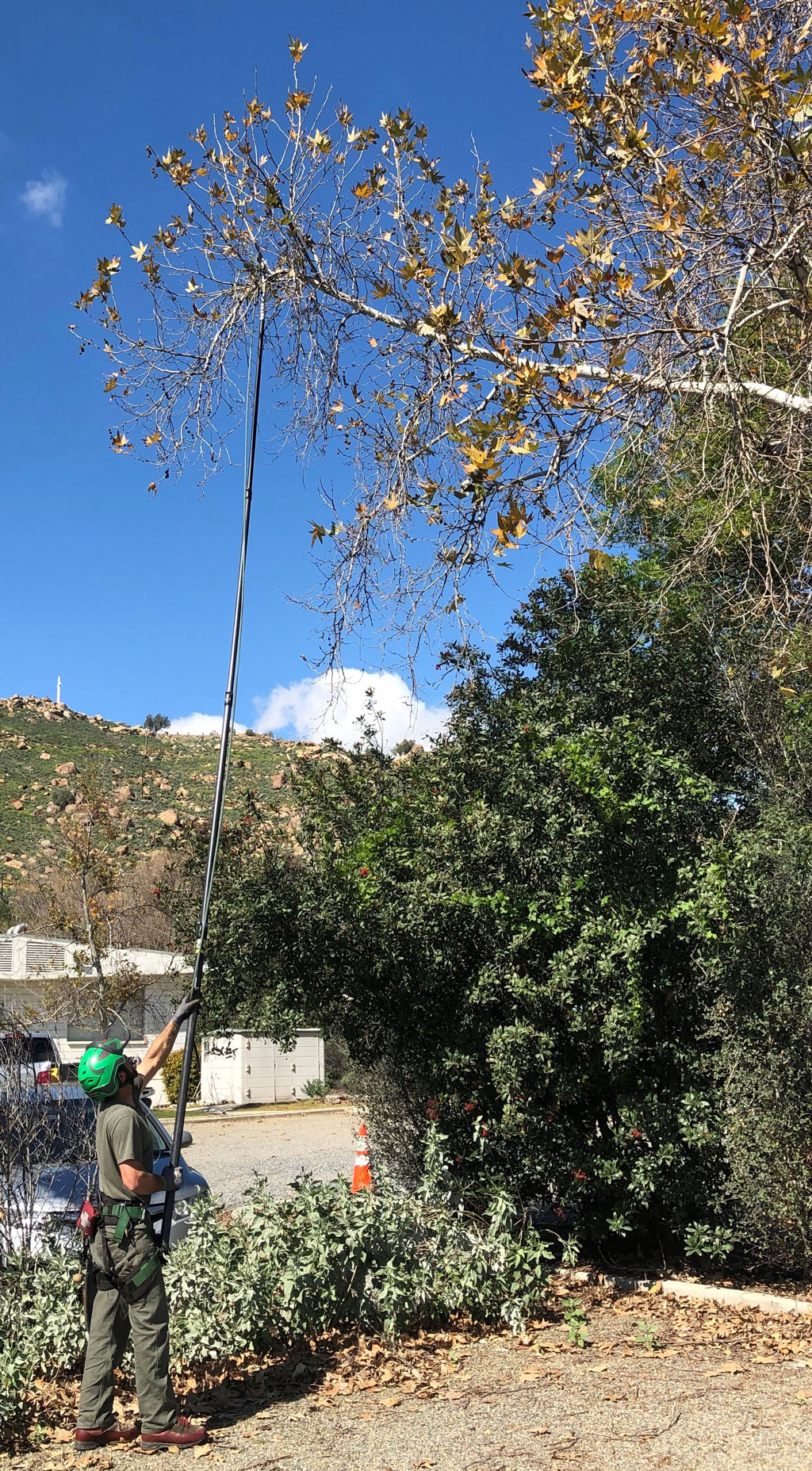 John Huddleston demonstrated the pruning of mature trees and covered how to stay safe when pruning, how to avoid hurting nesting birds and wildlife, and how to prevent spreading tree diseases. Participants also learned how to find a certified arborist and questions to ask.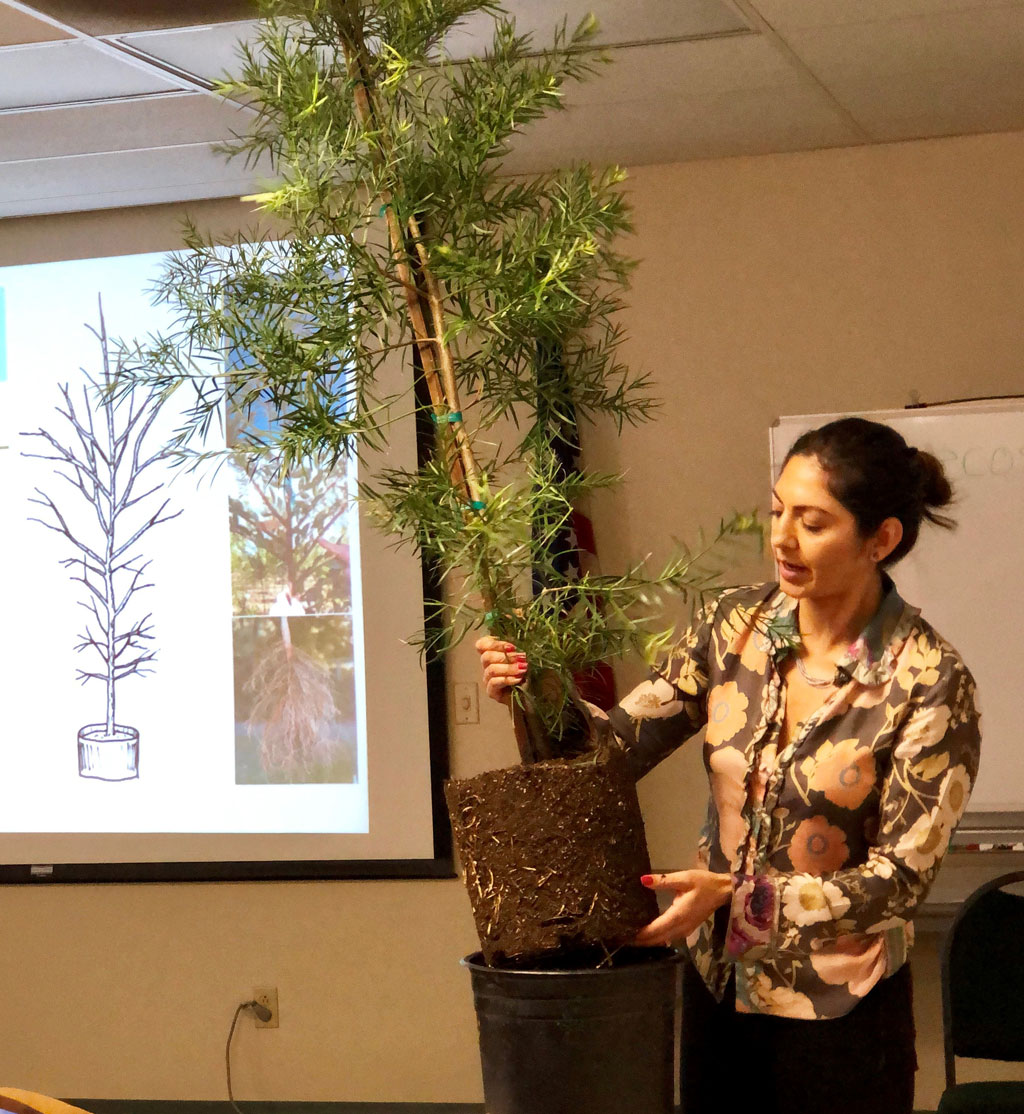 Raquel Falco, Park Supervisor for City of Glendora (shown above) talked about selecting high-quality tree nursery stock and the factors to consider when selecting different tree species to grow a healthy urban forest.
For great events like this, and many others, be sure to look out for next month's newsletter.

The City of Los Angeles, with our planting partner City Plants hosting two events! In the morning volunteers helped plant 40 trees at the  Van Nuys/Sherman Oaks Recreation Center. In the afternoon, the second group of volunteers planted another 40 trees at the Lanark Recreation Center. Shown above, from left to right are Elizabeth Skrzat, Executive Director of City Plants; David Pineda, our CIRCLE3 Grant Coordinator from West Coast Arborists, Inc. and Bob Blumenfield, City of Los Angeles Councilman for District 3 welcoming volunteers to the Lanark Recreation Center planting event.
Above: A group of volunteers plant a tree for I Heart Trees planting events.
Thanks to CAL FIRE and the California High Speed Rail (HSR) the California Initiative to Reduce Carbon and Limit Emissions 3.0 (CIRCLE) is working along the HSR corridor with partner cities and non-profits to engage residents in disadvantaged communities, train a CA Tree Team, and plant trees. We have partnered up with West Coast Arborists and the Western Chapter International Society of Arboriculture for the third round of CIRCLE as part of our Invest From the Ground Up campaign! If you would like to attend an event, please see the CIRCLE 3.0 ARBOR DAY EVENTS section below.
Receive a free tree in the Spring of 2019!
We have trees in one to three-gallon sizes to give away to eligible residents. Do you live in one of the following cities?
Glendale
Buena Park
Cudahy
Bell
South San Francisco
Santa Fe Springs
Daly City
Covina
Find out more and reserve your tree now, by clicking on the button "FREE TREE" below.
Donate $50 and receive this great limited edition print!
Why donate?
Your support is a smart investment in your community. With uncertainty regarding funding sources, we must increase our revenue through our support base and people like you to pay for the many programs and services we provide in California. Every dollar donated to the California Urban Forests Council helps us to continue our important efforts statewide.
Our gift to you.
If you give $50 or more you get this fabulous original limited edition, block print entitled "Growing Trees Make Great Communities" by graphic designer and artist, Deb Etheredge! Measuring 11 x 14 inches, each print is individually numbered and signed. Each print consists of five different colored blocks, carefully hand printed to create the final image. A full edition of 50 prints have been donated by the artist, so donate now and get yours today.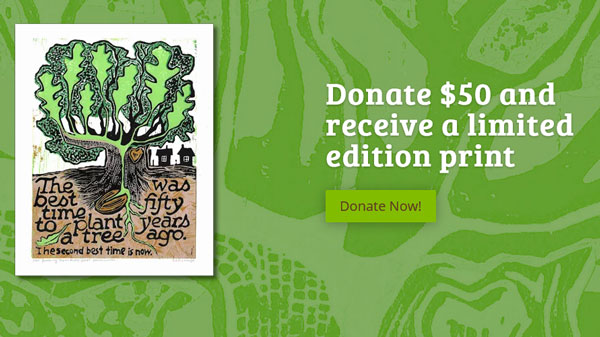 CIRCLE3.0 ARBOR DAY EVENTS
February 23, 2019
—
Morning: Van Nuys / Sherman Oaks Rec Center
14201 Huston Street, Sherman Oaks, 91423
8am – 11am
To register, click here.
Afternoon: Lanark Recreation Center
21816 Lanark Street, Canoga Park, 91304
2pm – 5pm
To register, click here.

March 2, 2019
—
Cudahy park
Park Ave,
Cudahy, CA 9020
To register, click here.

March 9, 2019
—
Smith Murphy Park
5290 Cameron Dr,
Buena Park, CA 90621
To register, click here.

March 9, 2019
—
New Heart Foursquare Church
380 East Covina Blvd.
Covina, CA 91722
Registration at the Parks & Recreation office,
1250 N. Hollenbeck Ave, Covina
or click here

March 9, 2019
—
Verdugo Park
1621 Canada Blvd,
Glendale, CA 91201
To register, click here.

April 20, 2019
—
Paradise Valley Pocket Park
398 B St,
South San Francisco, CA 94080
To register, click here.

April 27, 2019
—
Gellert Park
50 Wembley Drive,
Daly City CA 94015 (parking lot)
To register, click here.

April 27, 2019
—
Lake Center Park
11641 Florence Ave,
Santa Fe Springs, CA 9067
To register, click here.