SDRUFC Presents: Tools and Technology for Advanced tree Risk Assessment
March 1 @ 9:00 am

-

1:00 pm

$25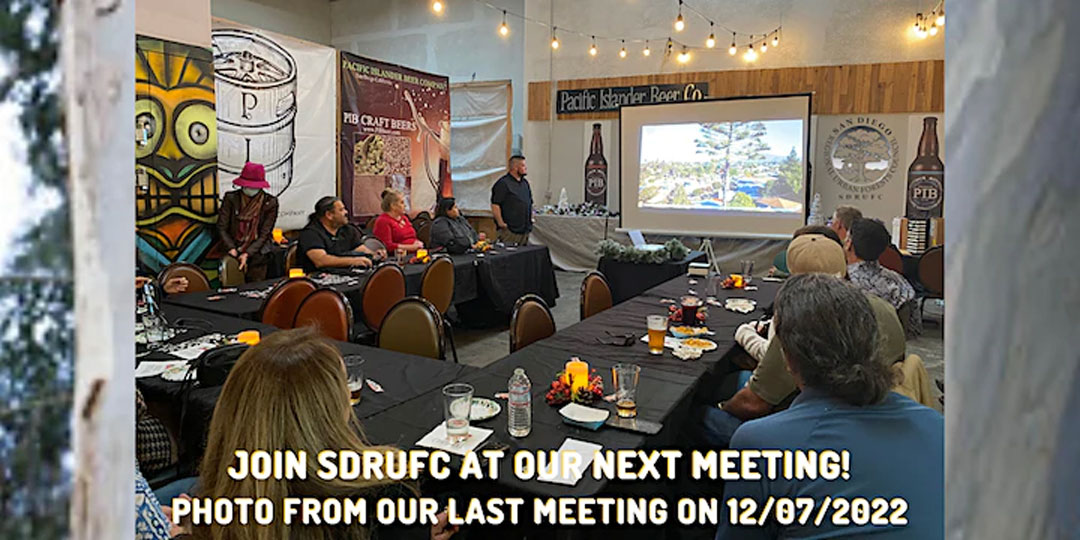 You are invited to join us at our next SDRUFC in-person meeting, where speakers will present on advancing applications for tree evaluations.
This meeting is to be held at the Balboa Park Club building in Balboa Park, in the Santa Fe room; admission is $25; 2.5 CEU's are available for attendees.
Please see attached map for circled location.
Confirmed Schedule:
9:00 am – Welcome and Introductions – Mike Palat
9:05 to 10:00 am – Tim Crothers of West Coast Arborists Presents on Level Three Assessment
10:00 to 10:10 am – Break
10:10 to 10:50 am – Vince Mikulanis of Davey Resource Group presents on Drones for Tree Risk Assessment
10:50 to 11:00 am – Break and Transition to Field Demonstration location
11:00 am to 12:00pm – Gene Bordson of West Coast Arborists presents Field Demonstration – Sonic Tomography
12:00 to 1:00 pm – Lunch and Business Meeting/Networking
Speaker Biographies:
Timothy Crothers biography
Tim Crothers is the Plant Health Care Manager for West Coast Arborists, Inc. in Anaheim, where he supervises the data collection, plant health care treatments, and consulting arborist work, as well as writing urban forest management plans. He has a Bachelor of Science degree in Environmental Horticultural Science from Cal Poly San Luis Obispo and specialized in Landscape Design. He is an ISA Board Certified Master Arborist with Utility and Municipal specialties, as well as the Tree Risk Assessment Qualification. In 2020 he became a Registered Consulting Arborist with the American Society of Consulting Arborists. He also holds a Qualified Applicator License with the California Department of Pesticide Regulation. He has over 20 years of experience in the landscape construction, landscape maintenance, and arboriculture fields, primarily in project management roles.
Michael Bova biography
Michael Bova is an Area Manager and consulting arborist with Davey Resource Group (DRG) in Southern California. Michael works with municipalities, commercial properties, homeowners associations, and private entities throughout the Southern Region of California. He has managed numerous significant urban forestry projects throughout Central and Southern California. He works with many municipalities, landscape architects, and planning firms in assisting their clients in understanding the structure, function and value of their tree resource, as well as assisting construction firms in developing tree protection plans. He has served as an expert witness and as a professional arboriculture and landscape industry advisor. Michael has authored numerous detailed technical and consulting reports for a variety of clients throughout the Central Coast and Southern California. Michael is the DRG Southern California Area Manager. Within this capacity he ensures quality operations of all DRG urban forestry projects in the area. He supports many clients in their efforts to help control invasive pests, including Polyphagous Shot Hole Borer, through the use of innovative technologie to monitor and compile in-depth data. He also manages the City of Los Angeles Street Tree Inventory, which encompasses up to one million trees and is the largest tree inventory in the country. Additionally, Michael continues to provide leadership by customizing solutions unique to each client and coordinating the wide variety of resources that DRG has to offer.
Jeff Harvey biography
Jeff Harvey is a seasoned project manager with Davey Resource Group (DRG). With over 32 years of industry experience, Jeff brings expertise in many areas to projects and clients alike. Jeff provides inventory services, management recommendations, and is a wealth of knowledge for clients and co-workers. Jeff began his career in tree care management where he excelled at climbing, achieving the ability to trim or remove anything from 100-foot trees to short bushes. Seeing the effects of over-pruning led Jeff to become a Certified Arborist through the International Society of Arboriculture (ISA). As a Certified Arborist, Jeff began serving commercial and residential clients, enabling him to create long-term relationships with his clients for annual inspections. He created a stream of return business and eventually was able to open up other services to benefit clients. Jeff also created short-term management plans and aided his clients in budget and tree management at a high level of excellence. His knowledge of direct tree care management coupled with his experience provides Jeff with a unique skill set and enables him to provide a hands-on approach to managing large urban canopies. Notably, Jeff was part of the team working on the Los Angeles Parks and Recreation Inventory, one of the largest inventories in the United States. He began this project as an inventory arborist and eventually became project manager. He also worked as the site manager for the City of Los Angeles Street Tree Inventory and is part of the team beginning the City of San Diego Street Tree Inventory.
Questions/comments? Contact us at [email protected]